Júniusban zárul a New York-i színházi évad. A nagy díjak május végén illetve június elején kerülnek majd átadásra, a sort a legnagyobb presztizsű esemény, a Tony-gála zárja. Sorozatunkban a Tony-díj valamint a Drama Desk zenés kategóriáinak áttekintése után röviden szót ejtünk az évad fontosabb musical-bemutatóiról is.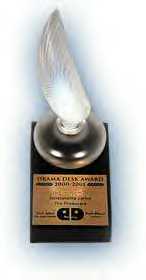 A New York-i színházi élet legismertebb és legfontosabb szelete a profitorientált Broadway. A Broadway csillogó világát a sokkal kisebb költségvetéssel és nézőszámmal működő off-Broadway egészíti ki. (És a sort folytathatnánk a musicalvilág szempontjából kevésbé meghatározó off-off-Broadway és a non-profit színházak említésével.) Több sikermusical kezdte pályafutását az off-Broadway valamelyik színpadán, és került át innen a Broadway-re. (Elég, ha csak a Hairt, a Sunday in the Park With George-ot, a Rentet, a Spring Awakeninget vagy az Avenue Q-t említjük.) Ezért ha máskor nem is, az évad végén nem árt egy-két off-Broadway show-ról is megemlékezni, hiszen ami tegnap még az off-Broadway-n aratott sikert, az lehet, hogy holnap a Broadway-n, holnapután pedig a világ minden táján ismert lesz.
A színházi díjak közül a Tony-díj kizárólag a Broadway-produkciókat díjazza, a Drama Desk viszont a teljes New York-i színházi kínálatot felöleli, ezért röviden erre a díjra is kitérünk.
A színházi díjak "új musical" kategóriájába egy adott mű első Broadway-produkciója kerülhet, a későbbi produkciókat felújításnak nevezik. A műfaj fejlődése szempontjából az új darabok nagyobb szerephez jutnak, így az évad legfontosabb – és legutoljára átadásra kerülő – díja a legjobb új musicalnek járó Tony-díj. Az áttekintésben először az újdonságokat, majd a felújításokat veszük sorra.
Folytatás:
Az új musicalek
A felújítások
A Drama Desk nyertesei
A jelöltek:
kategória
Tony-díj
Drama Desk
új musical
American Idiot
Fela!
Memphis
Million Dollar Quartet
American Idiot
Everyday Rapture
Memphis
The Addams Family
*The Scottsboro Boys
*Yank!
felújítás
Finian's Rainbow
La Cage aux Folles
A Little Night Music
Ragtime
A Little Night Music
Finian's Rainbow
La Cage Aux Folles
Promises, Promises
Ragtime
zenés revü
*Fascinating Aïda…
Million Dollar Quartet
*Newsical The Musical
*Simon Green: Traveling Light
Sondheim on Sondheim
szövegkönyv
Dick Scanlan, Sherie Rene Scott (Everyday Rapture)

Jim Lewis, Bill T. Jones (Fela!)

Joe DiPietro (Memphis)

Colin Escott, Floyd Mutrux
(Million Dollar Quartet)

Joe DiPietro (Memphis)

*Joe Iconis (Bloodsong of Love)

Dick Scanlan, Sherie Rene Scott (Everyday Rapture)

*David Thompson (The Scottsboro Boys)

*Alex Timbers (Bloody Bloody Andrew Jackson)

*David Zellnik (Yank!)

eredeti zene és szöveg
The Addams Family
Zene és dalszöveg: Andrew Lippa

Enron
Zene: Adam Cork
Szöveg: Lucy Prebble

Fences
Zene: Branford Marsalis

Memphis
Zene: David Bryan
Dalszöveg: Joe DiPietro, David Bryan

eredeti zene
David Bryan (Memphis)

*Michael Friedman (Bloody Bloody Andrew Jackson)

*Joe Iconis (Bloodsong of Love)

*John Kander, Fred Ebb (The Scottsboro Boys)

Andrew Lippa ( The Addams Family)

*Joseph Zellnik (Yank!)

prózai előadás zenéje
Adam Cochran (A Play on War)
Adam Cork (Red)
Gaines (A Lie of the Mind)
Philip Glass (The Bacchae)
Hem (Twelfth Night)
Branford Marsalis (Fences)
dalszöveg
*Rick Crom (Newsical The Musical)

*Kevin Del Aguila (Click, Clack, Moo)

*John Kander, Fred Ebb (The Scottsboro Boys)

*Dillie Keane, Adèle Anderson (Fascinating Aïda Absolutely Miraculous!)

Andrew Lippa ( The Addams Family)

*David Zellnik (Yank!)

férfi főszereplő
Kelsey Grammer (La Cage aux Folles)
Sean Hayes (Promises, Promises)
Douglas Hodge (La Cage aux Folles)
Chad Kimball (Memphis)
Sahr Ngaujah (Fela!)
*Brandon Victor Dixon (The Scottsboro Boys)
Douglas Hodge (La Cage Aux Folles)
Cheyenne Jackson (Finian's Rainbow)
Chad Kimball (Memphis)
Nathan Lane (The Addams Family)
*Bobby Steggert (Yank!)
női főszereplő
Kate Baldwin (Finian's Rainbow)
Montego Glover (Memphis)
Christiane Noll (Ragtime)
Sherie Rene Scott (Everyday Rapture)
Catherine Zeta-Jones (A Little Night Music)
Kate Baldwin (Finian's Rainbow)
Montego Glover (Memphis)
*Jayne Houdyshell (Coraline)
Christiane Noll (Ragtime)
Sherie Rene Scott (Everyday Rapture)
Catherine Zeta-Jones (A Little Night Music)
férfi mellékszereplő
Kevin Chamberlin (The Addams Family)
Robin De Jesús (La Cage aux Folles)
Christopher Fitzgerald (Finian's Rainbow)
Levi Kreis (Million Dollar Quartet)
Bobby Steggert (Ragtime)
Kevin Chamberlin (The Addams Family)
Robin De Jesus (La Cage Aux Folles)
*Jeffry Denman (Yank!)
Christopher Fitzgerald (Finian's Rainbow)
*Jeremy Morse (Bloodsong of Love)
Bobby Steggert (Ragtime)
női mellékszereplő
Barbara Cook (Sondheim on Sondheim)
Katie Finneran (Promises, Promises)
Angela Lansbury (A Little Night Music)
Karine Plantadit (Come Fly Away)
Lillias White (Fela!)
Carolee Carmello (The Addams Family)
*Carrie Cimma (Lizzie Borden)
Katie Finneran (Promises, Promises)
Angela Lansbury (A Little Night Music)
*Kenita Miller (Langston in Harlem)
Terri White (Finian's Rainbow)
díszlet
Marina Draghici (Fela!)
Christine Jones (American Idiot)
Derek McLane (Ragtime)
Tim Shortall (La Cage aux Folles)
musical és próza vegyesen:
Sandra Goldmark (The Boys in the Band)
Phelim McDermott, Julian Crouch, Basil Twist (The Addams Family)
Derek McLane (Ragtime)
Christopher Oram (Red)
Jay Rohloff (Underground)
Karen Tennent (Hansel and Gretel)
jelmez
Marina Draghici (Fela!)
Santo Loquasto (Ragtime)
Paul Tazewell (Memphis)
Matthew Wright (La Cage aux Folles)
musical és próza vegyesen:
Antonia Ford-Roberts, Bob Flanagan (The Emperor Jones)
Santo Loquasto (Ragtime)
Clint Ramos (So Help Me God!)
Bobby Frederick Tilley II (Lizzie Borden)
Matthew Wright (La Cage Aux Folles)
David Zinn (In the Next Room or the vibrator play)
hangszerelés
Jason Carr (La Cage aux Folles)
Aaron Johnson (Fela!)
Jonathan Tunick (Promises, Promises)
Daryl Waters, David Bryan (Memphis)
William David Brohn (Ragtime)
*Larry Hochman (The Scottsboro Boys)
Tom Kitt (American Idiot)
Tom Kitt (Everyday Rapture)
*John Oddo (All About Me)
Daryl Waters, David Bryan (Memphis)
koreográfia
Rob Ashford (Promises, Promises)
Bill T. Jones (Fela!)
Lynne Page (La Cage aux Folles)
Twyla Tharp (Come Fly Away)
Warren Carlyle (Finian's Rainbow)
Marcia Milgrom Dodge (Ragtime)
Lynne Page (La Cage Aux Folles)
*Susan Stroman (The Scottsboro Boys)
Twyla Tharp (Come Fly Away)
Sergio Trujillo (Memphis)
rendezés
Christopher Ashley (Memphis)
Marcia Milgrom Dodge (Ragtime)
Terry Johnson (La Cage aux Folles)
Bill T. Jones (Fela!)
Warren Carlyle (Finian's Rainbow)
Marcia Milgrom Dodge (Ragtime)
*Igor Goldin (Yank!)
Terry Johnson (La Cage Aux Folles)
Michael Mayer (American Idiot)
*Susan Stroman (The Scottsboro Boys)
hangdizájn
Jonathan Deans (La Cage aux Folles)
Robert Kaplowitz (Fela!)
Dan Moses Schreier, Gareth Owen (A Little Night Music)
Dan Moses Schreier (Sondheim on Sondheim)
Acme Sound Partners (Ragtime)
Jonathan Deans (La Cage Aux Folles)
Ashley Hanson, Kurt Eric Fischer, Brian Ronan (Everyday Rapture)
*Peter Hylenski (The Scottsboro Boys)
Scott Lehrer (Finian's Rainbow)
Brian Ronan (Promises, Promises)
világítás
Kevin Adams (American Idiot)
Donald Holder (Ragtime)
Nick Richings (La Cage aux Folles)
Robert Wierzel (Fela!)
musical és próza vegyesen:
Neil Austin (Hamlet)
Neil Austin (Red)
Christian M. DeAngelis (Lizzie Borden)
Maruti Evans, John Ball's (In the Heat of the Night)
Natasha Katz (The Addams Family)
Dane Laffrey (The Boys in the Band)
A Tony és a Drama Desk kategóriái nem minden esetben fedik egymást.
A *-gal jelölt musicaleket az off-Broadway-n mutatták be.
A Ragtime áthúzott jelöléseit utólag visszavonták a jelölőbizottságok (részletek itt)
Volf Anna